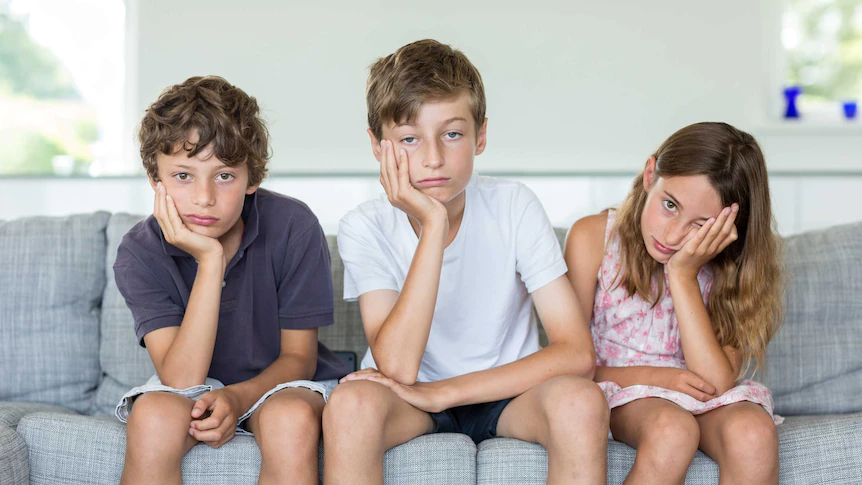 With over 52,000 islands, amazing wildlife, a breathtaking natural environment, a variety of indoor and outdoor activities, and friendly people.
It's hard to agree that Canada is a boring country. There are lots of activities going on here.
But the debate on whether Canada is boring or not continues to go on.
While some believe there's not much to do here, others find Canada to be a great place with plenty of activities to enjoy.
Canada is a diverse country with something for everyone.
Whether you're looking for outdoor adventures or city life, you can find it here.
But the general belief that Canada is boring isn't going away any time soon.
Canada was recently voted to be more boring than the UK, USA, Australia, Germany, France, and the Netherlands in an online poll conducted on Twitter.
With voters recounting their boring experience with the country's nightlife.
Canada is boring: Truth or Myth.
Canada is not boring, there's no shortage of things to do in Canada, no matter what time of year you visit.
You can take a tour of Niagara Falls, visit the CN Tower in Toronto, go for a hike in the Rocky Mountains, go whale watching in Vancouver, visit the Ice fields Parkway in Alberta and see the Northern Lights in the Yukon.
In the winter, you can hit the slopes at one of the many world-class ski resorts.
If you're looking for a more relaxed vacation, you can enjoy the beautiful scenery and go for a leisurely hike through the forests.
In the summer, you can spend your time camping, fishing, and kayaking in the many national parks.
And of course, no matter what time of the year you visit, you can always enjoy the delicious food and drink Canada has to offer.
So whether you're looking for a winter wonderland or a summer paradise, Canada has something for everyone.
You will never get bored here.
Why people think Canada is boring
While Canada isn't boring, a lot of people believe it is for many reasons.
The weather is cold and snowy.
Canada is often viewed as a boring place because of its cold, snowy winters.
Wintertime temperatures typically hover between -5 and -15 degrees Celsius and are below or around 0 degrees Celsius.
Although it doesn't happen often, it can get below -20 or -30 degrees Celsius. It frequently snows heavily in November and December, too.
Not many activities can go on out there in the cold winter in Canada. People are forced to stay indoors in a bid to avoid the snow.
During the summer, the weather is also not as pleasant as expected, it is also relatively cold and discouraging to host parties.
Even if it doesn't happen frequently, having a snow day during the summer is not entirely unusual.
There is no time to catch a breath of fresh air from the weather in Canada, though the summer is quite better.
We have a reputation for being nice, but not necessarily exciting.
There is a big difference between being polite and being exciting. Canadians are seen as nice and polite people.
The country is ranked number one in the Migration Integration Policy Index (MIPEX) among 52 other English-speaking countries from different continents, making Canada the friendliest country in the world.
But their politeness does not translate to being exciting.
Many think Canadians say "sorry" all the time but are never ready to engage in any exciting activities, they love their space unoccupied and love to be left alone always, which can be boring.
There isn't much nightlife.
Canada isn't that known for great nightlife, even though a lot of activities happen here.
The unpredictable nature of the weather downs everyone's nightlife vibes.
But, it's not as bad as folks think.
Most people believe Canadian cities are "clean" and " orderly," but not necessarily "vibrant" or" colorful."
You would expect this considering the weather isn't all that great, the majority of the time of the year.
The cities are always caught struggling to recover from one weather impact or another other which many believes makes the cities boring.
Most times, you are confined indoors for safety purposes. That's the belief out there, but this is not all that true.
Canadians also find time off the challenges and daily activities to have fun and relax.
We have a lot of wide open space, which some people find boring.
Canadians live far from each other, towns are far from neighboring towns, and you can spend hours on the road before hooking up with friends.
Of course, these are just generalizations and there are plenty of Canadians who would disagree with these points.
If you're looking for a country that's full of excitement and adventure, you don't have to look elsewhere.
Canada is exciting if you hit the right part of the country.
Things you can do for fun in Canada
There are tons of things to do for fun in Canada! Whether you're looking for a fun activity to do with friends or family, or you're looking for something to do on your own, there's sure to be something for you.
Here are just a few of the many things you can do for fun in Canada:
1. Hiking in the Rockies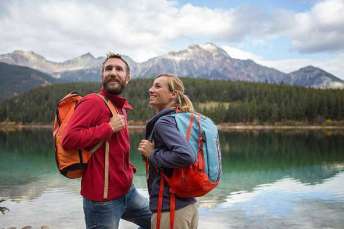 Canada houses some of the most beautiful mountains in the world, and hiking through them is an unforgettable experience.
There are several different trails you can hike in the Rockies, depending on your fitness level and how long you want to be out on the trail.
You can go to the Stanley Glaciers trail, the Northover, Floe Lake, Bow Lake, Helen Lake, and Plain of Six Glaciers.
This moderate trail takes you through some of the most stunning scenery in the Rockies, including Emerald Lake and the Stanley Glacier.
The Northover is another great place to have some fun in Canada
It's a nice place to go for a hike, a swim, or just to enjoy the scenery.
There are also a lot of great restaurants and cafés in the area, so you'll be able to find something to eat.
After a long day of hiking, there's nothing better than relaxing by the lake. And what's a better place to do that than at Floe Lake?
This serene lake is surrounded by beautiful mountains, making it the perfect place to unwind.
There are plenty of things to do, you can go for a swim, paddle a canoe, or just relax on the shore.
In the evening, you can enjoy a barbecue next to the lake.
Bow Lake is one of the most beautiful places to enjoy nature in Canada – and there's plenty to do here.
1. You can take a scenic drive along the Bow Valley Parkway. This scenic route takes you past some of the most breathtaking scenery in the Canadian Rockies.
2. Go for a hike. There are plenty of trails to choose from, whether you're looking for an easy stroll or a challenging hike.
3. Take a dip in the lake. Bow Lake is the perfect place to take a refreshing swim on a hot day.
4. Relax at one of the many campsites. There are several camping options available, from backcountry sites to RV parks.
Located in beautiful Banff National Park, Helen Lake is a great spot for hiking, camping, fishing, and more.
Plus, there are plenty of nearby attractions to keep you busy if you're looking for something to do.
You can go hiking: There are plenty of trails to explore around Helen Lake.
Whether you're a seasoned hiker or just getting started, you'll find a trail that's perfect for you.
If you love camping, Helen Lake is a great spot for camping.
This serene and beautiful place is perfect for those who want to enjoy nature at its finest.
The Plain of Six Glaciers is located in Banff National Park in Alberta.
The area is home to six glaciers, as well as several lakes, forests, and mountains. You can enjoy hiking, camping, fishing, and much more.
Whether you're looking for a quick hike or an all-day adventure, you're sure to find a trail that's right for you.
Plus, you'll get to enjoy the fresh air and stunning scenery.
Going hiking in the Rockies is one activity that will help you appreciate Canada.
2. Camping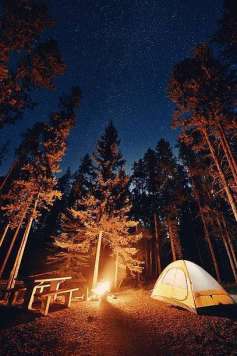 Aside from hiking in the Rockies, you can go backpacking to car camping to enjoy the great outdoors.
Camping is a great way to explore Canada and its many different landscapes.
It is also a great way to connect with nature and disconnect from the hustle and bustle of everyday life.
In Canada, there are different places to camp, from national parks to provincial parks.
If you are around Ontario, you can go camping in the Algonquin Provincial Park.
Algonquin Provincial Park
Located in Ontario, this stunning park is filled with pristine lakes, dense forests, and plenty of wildlife.
It's the perfect place to unwind and enjoy the great outdoors. This massive park offers over 2,000 miles of trails and campsites.
And with its convenient location just a few hours from Toronto, it's the perfect spot for a weekend getaway.
3. Canoeing or kayaking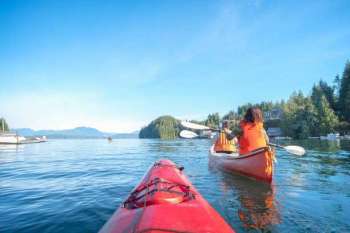 Canoeing and kayaking are two great ways to explore Canada's waterways.
Whether you're paddling down a river or through a lake, you'll get to see some amazing scenery.
And, if you're lucky, you might even spot some wildlife along the way.
If your stay takes you to southwestern Alberta, you'll be lucky to have fun Canoeing and kayaking at the Banff National Park.
It is one of Canada's most popular tourist destinations, and for a good reason.
The scenic views are breathtaking, the wildlife is abundant, and there are plenty of activities to keep you busy.
If you love being outdoors and enjoying nature, then canoeing or kayaking in Banff National Park will peak it for you.
It is something you should add to your list of things to do in Canada.
My first time there, I never wanted to leave, Banff National Park is one of the most beautiful places in Canada, and there's no better way to experience it than by spending a day out on the water.
The most amazing part is that; if you're new to canoeing or kayaking, there are plenty of beginner-friendly routes that you can take.
And if you're looking for a challenge, there are also some more difficult routes that you can try.
4. Skiing or snowboarding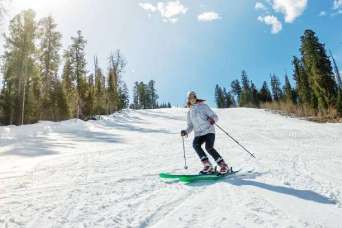 If you are a big fan of skiing or snowboarding, it is one of the many activities you can do in Canada to enjoy your time in the country.
With its vast expanses of snow-covered terrain, Canada is a paradise for winter sports enthusiasts.
There are many different ski resorts in Canada, each with its unique charm.
So, if you are in for a challenge, or you just want a place to relax and take in the scenery, you're sure to find a ski resort that's perfect for you in Canada.
Some of the best ski resorts in Canada include Whistler, Banff, Panorama, Revelstoke, Sun Peaks, Fernie, Kicking Horse, and Tremblant.
5. Ice climbing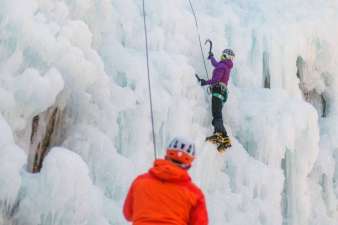 Ice climbing is a type of rock climbing that is done on frozen waterfalls or cliffs.
It requires special equipment and training, but it can be an incredibly rewarding experience.
If you are an Ice climbing fan, this is one great thing you can do to enjoy your stay in Canada.
It's a great way to get some exercise, enjoy the scenery, and challenge yourself.
There are much different ice climbing routes in Canada, so you can choose one that's right for you.
And if you're new to ice climbing, you don't have to worry – there are plenty of resources available to help you get started.
You can find instructional videos online, read articles and guides, or even take a class from a local instructor.
Once you've learned the basics, you'll be ready to tackle any ice-climbing route in Canada.
If you're looking for an adventurous way to spend your time in Canada, then ice climbing is something you should consider.
6. Dog sledding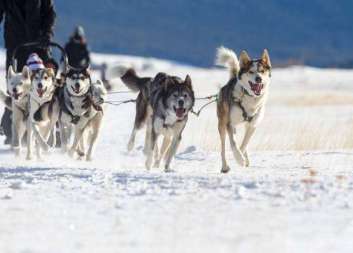 Winter in Canada is something special. And one of the best ways to experience it is by dog sledding.
Dog sledding is a great way to see the Canadian countryside and get some exercise at the same time.
It's also a way to bond with your furry friend and create lasting memories.
And if you're looking for a little adventure, you can even try racing.
If you find yourself in Canada during the winter, be sure to give dog sledding a try. It's an experience you won't soon forget.
Other activities you can engage in for fun in Canada include
Exploring the country's cities and towns, visiting museums or art galleries, attending a sporting event, fishing (Canada has a lot of water bodies to keep you fishing all day), you can take a scenic drive, visit a farmer's market or go pick-your-own fruits and vegetables, enjoy a meal at a local restaurant and take a trip to the beach
There are endless indoor and outdoor activities in Canada that can keep you coming back to the country.
Conclusion
People tend to think of Canada as a boring place because of the cold weather and the snow. But there's a lot more to Canada than just winter.
The country is home to some of the most beautiful scenery in the world, with towering mountains, pristine lakes, and lush forests.
There are also cosmopolitan cities like Toronto and Vancouver that offer a wealth of culture and nightlife.
So next time you're feeling adventurous, don't write off Canada as a boring destination – there are plenty of activities to entertain you here.